Please note:  some details have changed.  A reboot will be required.
On Tuesday March 12th at 5pm, we will be replacing the server that provides self-service software installations ("Run Advertised Programs"), as well as our software delivery and imaging functions. Because each Windows computer has a small utility installed to allow this system to function, this upgrade will visibly affect all Bryn Mawr Windows computers.  We will also be reimaging the public labs (Canaday, Carpenter, Collier, LLC, Dalton Laptop Pool) to account for this change; it is not necessary to reimage classroom or instructional lab computers other then the Dalton Laptops and the LLC.
Please plan to log out but leave your computer on when you leave the office on March 12.
Please plan to log out but leave Windows updates running on the first available evening, we suggest the evening of the 13th, when you depart.
Once the upgrade is complete, you will see some changes to the way your computer performs Windows updates, and the location where you find self-service software installs will change.
What will happen and when?
After 5pm on March 12, each Windows computer around campus will receive a notification in the lower right corner of your screen reading "Assigned Program About to Run".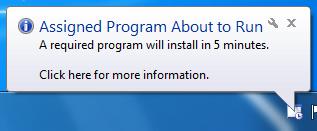 If you are logged in while the program runs, you will be notified about a pending reboot (similar to the message box below).  You will have 5 minutes to save and close all programs on the computer before the pending reboot.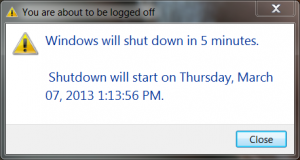 The program will install and complete with no further interaction from you. The update takes about 10 minutes, and we ask that you do not shut off or restart your computer during this time.
As you are leaving the office, please log out, but leave your computer on; if you do turn it off, please expect that it may turn on automatically and be on (but logged out) when you arrive in the morning.
This prompt will not occur at the exact same time for all campus computers. It will happen as each computer runs its periodic update cycles in the background, and timing may vary by as much as an hour or two even within the same office.  If you are still working during this time, it will be visible to you; you may see icons appear and disappear from your system tray (near your clock) and if you are looking at your computer's control panel, you may see items here change as well.  When it is complete, a message will appear to notify you.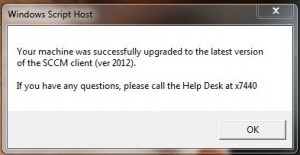 During the update or soon after, you will receive another prompt in the lower right corner of your screen indicating that you have a number of Windows updates waiting. Some computers may need only a few updates and others may need many – one of the reasons for the replacement is that the updates were not correctly applying to all computers.

You may want to wait until the end of the day to run these updates overnight, but it is highly recommended that you run them as soon as possible.
What if I'm off campus during this time?
If you have a College Windows laptop (typically Dell or HP), this update will run when you use your computer on campus. Please be aware of this and plan time as interrupting the update could cause problems on your computer.  If you do not see the update occur upon your return, please contact the Help Desk (x7440, help@brynmawr.edu) for a technician's assistance.
I'm being prompted for lots of Windows updates! What should I do? Will this happen in the future?
Please apply the updates as prompted. If many updates are needed, it may be advisable to wait until before you leave for the day so they may run without interrupting your work.
In the future, you will periodically be prompted to accept Windows updates, which you should continue to accept.
We have changed the way that we are supplying updates to your computer, and while we may periodically need to automatically apply an update (as we did with Java updates earlier this month) you will need to apply the updates when you are prompted, as you do on your home computer.
I used to be able to install software from "Run Advertised Programs" in my control panel. Where do I find it now?
This functionality is still available, although it is no longer in the same location.
Microsoft Software Center (the replacement for "Run Advertised Programs") should now appear under the programs list in the start menu. In Software Center, you will find the installers for Acrobat, EMS, Contribute, and the other things you might be looking for.
Comments Off

on Updated: Windows Users: Upgrade Affecting your Computer — March 12