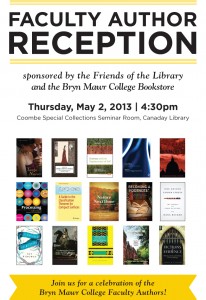 Please join us to celebrate books recently published by the Bryn Mawr faculty:
Thursday, May 2nd at 4:30
Coombe Special Collections Seminar Room
Canaday 2nd floor
Each spring the community gathers for a wine and cheese reception where authors may share a few words about their books. The faculty author reception has become a tradition of sharing the scholarship and publishing success of Bryn Mawr's faculty authors. The Bookstore will partner with The Friends of the Library to sponsor this event and will make available for purchase some of the titles to be celebrated.
Authors and books being celebrated:
Dana Becker, One Nation Under Stress: The Trouble with Stress as an Idea (Oxford)
Christopher Davis, The Conduct of Saints (The Permanent Press)
Christine Koggel, Care Ethics: New Theories and Applications (Routledge)
Michael Krausz, Oneness and the Displacement of Self (Rodopi)
Deepak Kumar and Dianna Xu, Processing: Creative Coding and Generative Art in Processing 2 (friends of ED)
Shiamin Kwa, Strange Eventful Histories: Identity, Performance and the Xu Wei's Four Cries of a Gibbon (Harvard)
Carolyn Merritt, Tango Nuevo (University of Florida)
Harriet Newburger, Neighborhood and Life Chances: How Place Matters in Modern America (University of Pennsylvania)
Kalala Ngalamulume, Colonial Pathologies, Environment, and Western Medicine in Saint-Louis-Du-Senegal, 1867-1920 (Peter Lang)
Maria Cristina Quintero, Gendering the Crown in the Spanish Baroque Comedia (Ashgate)
Bethany Schneider (Bee Ridgway), The River of No Return (Dutton)
Sandy Schram, Becoming a Footnote: An Activist-Scholar Finds His Voice, Learns to Write, and Survives Academia (SUNY)
Ellen Stroud, Nature Next Door: Cities and Trees in the American Northeast (University of Washington)
Jamie Taylor, Fictions of Evidence: Witnessing, Literature and Community in the Late Middle Ages (Ohio State University)
Dianna Xu, A Guide to the Classification Theorem for Compact Surfaces (Springer)
Comments Off

on Faculty Author Reception: Thursday May 2, 2013