In This Issue:
Celebrate new faculty books on May 2nd
Local Learning Support Pilot Program Launches This Fall
Web Services prepares to revamp the College's website
Materials from Women's History in the Digital World Conference now available in Digital Repository
Bi-Co OneCard goes live June 3rd
Bon Voyage Janet!
TLI's Empowering Learners Partnerships Celebrate a Rewarding Semester
Email focus groups and faster wireless
Cutting-edge library equipment added to Canaday and Carpenter
CIO Search Progresses
Even Better Access to Art and Artifacts Collection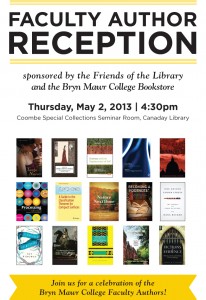 Celebrate New Faculty Books on May 2nd
The Friends of the Library and Bryn Mawr College Bookshop invite you to hear a few words from faculty members about their recently published books on Thursday, May 2nd at 4:30pm in the Special Collections Seminar Room.  For more information see the IS Blog and Pinterest!
Local Learning Support Pilot Program Launches This Fall
During this two-year program, IS staff members will work within College departments to support staff who are learning new and emerging technologies.  IS staff will teach skills leading  to technological confidence and self sufficiency, and will help the larger staff education program get a clear understanding of how best to support staff going forward.  Department participation is voluntary and limited to five departments each semester.
Web Services Prepares to Revamp the College's Website
Much like remodeling a house, revamping a website requires a lot of preparation. We're cleaning up stylesheets and blog themes, and working with Communications, the Dean's Office, Alumnae, Resources, and our design firm, iFactory, to figure out how we'll be rearranging things and what the design will look like. As of this writing, we're working on site maps, and then we'll move on to things like wireframes– these serve as the blueprints for our site.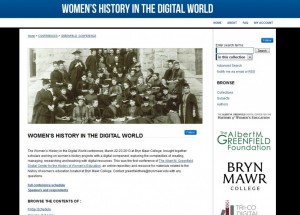 Materials from Women's History in the Digital World Conference Now Available in Digital Repository

Conference organizers are gathering speaking notes, slides, links to project and social media pages and other supplementary materials to make them available to all via the conference website.  For the many who were not able to attend in person, this resource will provide an opportunity to engage with the work and see the variety of research endeavors that are currently underway in the field of women's history.   The site aims to sustain the conversations that emerged at the conference, as well as foster new dialogues with a wider participatory base than those who were able to convene in March.  Visit the Educating Women blog for more information.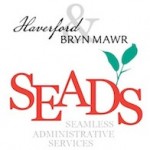 Bi-Co OneCard Goes Live June 3rd
OneCard holders will soon be able to use their cards to pay anywhere transactions take place, on either campus!  This major development is expected to be a great improvement in user-friendliness and convenience for Bi-Co community members.  Manage your card online: http://www.brynmawr.edu/onecard/
Bon Voyage Janet!
Janet Scannell will be leaving the College in early May to become the Chief Technology Officer at Carleton College in Northfield, Minnesota.  This is an incredible opportunity for Janet, whom many of you know from our PeopleSoft implementation more than ten years ago, as Director of Computing, and as the person currently leading our SEADS initiatives with Haverford.  Thanks, Janet, you will be missed!
TLI's Empowering Learners Partnerships Celebrate a Rewarding Semester
The TLI's Empowering Learners Partnerships Program, a program which facilitates the pairing of staff/faculty and students in reciprocal learning partnerships, had a great semester with both new and returning participants. This semester, fifteen staff and faculty members were paired with students to exchange skills–foreign languages, cooking, photography, swimming, and jazz appreciation to name a few–and to foster new relationships. These partnerships are recognized each spring at the Empowering Learners Partnerships final celebration.
Email Focus Groups and Faster Wireless
Our Systems team is preparing for summer projects related to SEADS, improvement of wireless signal, upgrades to Zimbra Communication Center, and other work that will help systems around campus perform faster and better.  In cooperation with Support Services and the Research Support and Educational Technology Group, Systems will also be planning focus groups in the Fall to study the community's collaboration and email software needs.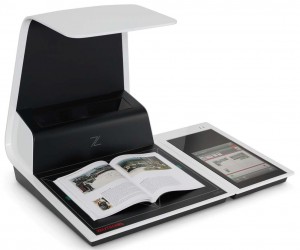 Cutting-edge Library Equipment Added to Canaday and Carpenter
It just got easier to digitize analog materials from the College's rich collections!  Canaday has a new, modern microfilm reader/scanner featuring built-in Optical Character Recognition, one-click printing and PDF creation, and spot editing, cropping and redacting.  Coming soon to Carpenter, the Zeta scanner (pictured) allows easy scanning of historical books, magazines, files, ring binders, or anything else unwieldy.  Print, email, save for download or transfer your files to a thumb drive.
CIO Search Progresses
The College continues to move ahead with a search fora new Chief Information Officer.  "The CIO search is going well. There is a strong pool of candidates and a lot of interest in the position", says Kim Cassidy, Provost and Chair of the search committee.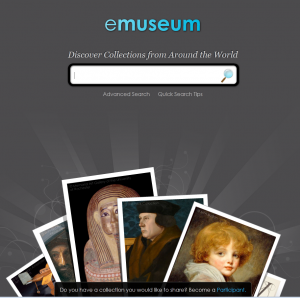 Even Better Access to Art and Artifacts Collection
Bryn Mawr College Art and Artifacts Collection is now part of emuseum.net.  Users can search across a variety of museums, educational and cultural institutions collections all at once.

TriArte is no longer IP-restricted!  Visit triarte.brynmawr.edu from anywhere to browse and search over 29,000 art and artifacts from Bryn Mawr, Haverford and Swarthmore Colleges.
---
Watch this space for Information Services' quarterly newsletter, in which we highlight infrastructure and service improvements, exciting events, and new initiatives affecting the College community.  Something you'd like to know more about?  Stories to contribute?  Get in touch by the first of November, February, May and August in time for the next issue!  mcresswell@brynmawr.edu
Comments Off

on Information Services Quarterly – Spring 2013