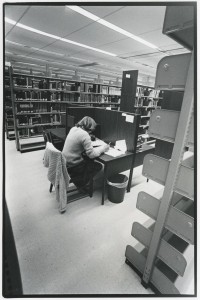 Two important changes are coming to the Canaday carrel policy beginning in Fall 2013:
Canaday carrels will no longer be assigned on a first come, first served basis.  They will need to be signed out via appointment.  To make a carrel assignment appointment with a circulation staff member, please email circulation@brynmawr.edu.
Carrels will be made available to the entire student body.  Seniors and graduate students may apply for a carrel starting on August 1st.  All other students and staff members may apply for a carrel starting on October 1st.
As in previous years, carrel assignments will stay in place for one academic year. You can reapply for the same carrel the following year, but there is no guarantee that it will be available.
Important information for current carrel-users:
Beginning June 3, 2013, all carrels in Canaday will be cleared for an inventory project.  If you have a carrel in Canaday, make sure to remove all your personal items and return library books from the carrel by that date.  After June 3, all books will be sent for reshelving and personal items will be placed in the Lost & Found.
For more information about the June cleanout and the Fall 2013 policy changes, please see the Canaday carrel policy, or email circulation@brynmawr.edu.
Comments Off

on Canaday carrels news: June cleanout and Fall 2013 policy change