Welcome to the second installment of Cyber Security Awareness Month news!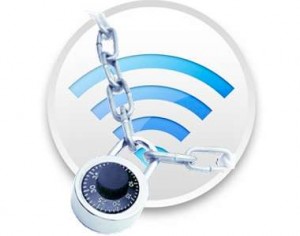 You may have noticed that Bryn Mawr has two* wireless networks:
BrynMawrCollege:  Secure and encrypted network intended for routine use by Bryn Mawr students, faculty and staff
BrynMawrGuest:  Open, unencrypted network intended for occasional visitors to the College
Regular use of BrynMawrGuest puts the security of your passwords, email correspondence, and other personal information at risk.  Many current students use BrynMawrGuest and may not be aware that BrynMawrCollege exists, or of the steps to take to join the secure network.
To encourage residential students to switch to BrynMawrCollege, we will temporarily disable BrynMawrGuest in the dorms only for the week following fall break.  Machines that are connected to the BrynMawrCollege wireless network will be unaffected.
Avoid interruption to your wireless service by connecting your devices to BrynMawrCollege before October 21st.  If you are currently using BrynMawrGuest, go to https://netreg.brynmawr.edu/cloudpath to join the secure network.  You can also find instructions on how to join BrynMawrCollege here.
If you are having trouble connecting, can't tell which network you are using, or are unsure if your device can connect, stop by the Help Desk on the first floor of Canaday for assistance.  Bring the device or devices that you have questions about.
If you have not connected to BrynMawrCollege before October 21st, you will be unable to connect in your dorm.  Bring your computer or mobile device to Canaday or any academic building to get connected to BrynMawrCollege using the instructions above.
If you have a mobile device that is incapable of joining BrynMawrCollege (such as a Kindle or a Nook), you can bring it to any academic building to download materials.
Certain gaming and streaming systems may also be incapable of joining the secure network; they will not have connectivity during this period.
Please contact the Help Desk with any questions:  help@brynmawr.edu or 610-526-7440.
*You may also notice a network called eduroam, which provides secure wireless access to community members of eduroam institutions, including Haverford and Swarthmore.
Comments Off

on Connect to BrynMawrCollege Secure Wireless Network