Updated 8/31/15:
Listserv admins are still experiencing a high volume of spam subscription requests. System administrators are actively working on server-side solutions to this high priority issue.
In the meantime, list admins should consider whether or not their list needs to be advertised on the mailing list subscription page. For example, if your list membership is automatically updated, there is no need to advertise it because one cannot choose to join (or leave) the list. Under Configuration Categories click on Privacy options. Set the first question, Advertise this list when people ask what lists are on this machine?, to No.
While we continue to develop solutions that individual list admins can put in place, they are short-term solutions at best. These attacks are much like the phishing attempts that plague us from time to time…they're tricky, nuanced, and ever-changing. It's not possible for us to keep up with and communicate widely the latest tip, trick or workaround we've discovered. We welcome and expect calls to the Help Desk from list admins who still need to improve their own experience, and we will share what we know in hopes of mitigating the effects of this series of attacks.
While setting up email filters will help keep your Zimbra inbox under control, you'll still need to review filtered messages and take action in Mailman to discard requests. If you need help with filters or any of the mitigation techniques we've shared thus far, contact the Help Desk, 610-526-7440.
---
Over the last couple of days, listserv moderators have received an unusually high volume of spam subscription requests.  We posted a solution yesterday and our spammers reacted by adjusting their methods.
Any community member who administers an email list can follow these steps:
1. Log in to the administrator interface for your list, i.e. http://newmailman.brynmawr.edu/mailman/admin/YOUR LIST.
2. Under Configuration Categories click on Privacy options.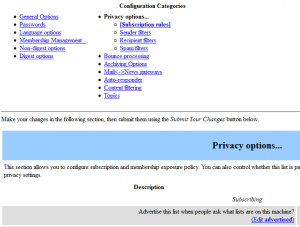 3. On a separate tab/in another Window (your preference), log into your Bryn Mawr email.
4. Contact the Help Desk: 610-526-7440.  They will provide you some new information on combating this spammy threat.
Comments Off

on Updated: Listserv Administrators: Spam Subscription Requests