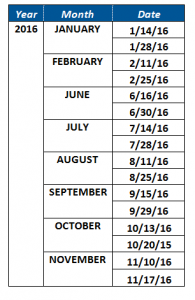 Routine system maintenance occurs on the 2nd and 4th Thursday of each month from 6:00 p.m. – 2:00 a.m.
LITS implemented this practice in June 2015 to reduce overall system downtime, to improve the security and reliability of College systems and networks, and to maintain compliance with industry and vendor support requirements and best practices.
LITS maintains a System Maintenance Calendar (right). We ask that community members consult this calendar and the LITS Blog and plan their work accordingly.
What does this mean for me?
Not all systems will necessarily be unavailable during these maintenance windows; however, you should assume that they will be and plan critical work around the System Maintenance Calendar. LITS will provide details whenever possible via reminders posted to the LITS Blog.
What happens when one of the maintenance windows falls during a major College event?
College senior administrators have identified a small number of dates during which the routine 2nd and 4th Thursday maintenance windows will not be possible. In these cases, the maintenance schedule has been altered to accommodate key events on the College calendar. Some months will be skipped entirely, including December and May.
For additional FAQ and a list of included systems see the System Maintenance Policy: http://www.brynmawr.edu/computing/policies/
Contact the Help Desk with questions, help@brynmawr.edu or 610-526-7440.
Comments Off

on Reminder: Routine System Maintenance in 2016