Earlier this year, LITS changed the recommended campus browser to Chrome.  In our announcement, we said:
"As you may know, we are often cautious about Google's products given the large volume of information that they gather and retain about Internet users and customers of their many services.  As Chrome has matured, Google has provided us better options to help maintain privacy and minimize tracking."
In this spotlight, we thought we'd talk about the settings we recommended (and why) and some additional ways you can stay safe while using Chrome.
Security and Privacy Settings
In our Recommended Settings, we suggest you turn on and off a number of options.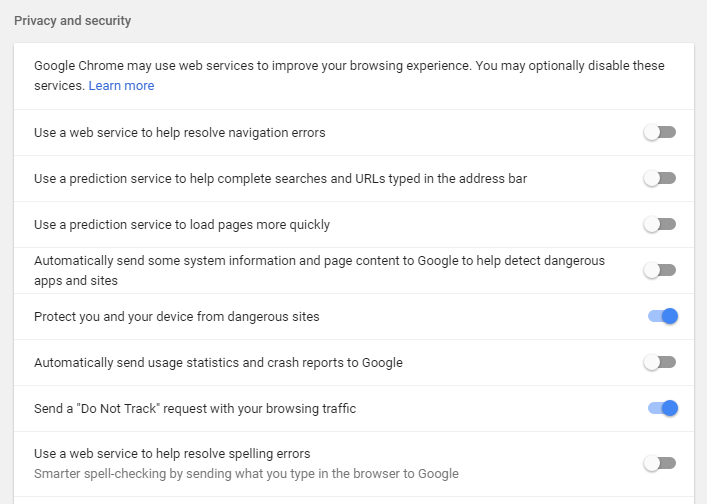 In the Privacy and Security section, we advise turning many things off.  At first read, these sound as if they might be helpful, and they can be.  However, using an external service to help you with anything on the Internet, requires sending your browser data to that service. That service can potentially store that data (identified by your IP, cookies, or other personal information and use it to target you.  Typically this is for something as seemingly innocuous as advertising, but this information could be subpoenaed or used to target you in other ways.
We also recommend you do not allow your location to be tracked, for very similar reasons.  Other than these the only defaults we ask you to change are for your increased usability with Bryn Mawr Services.  Other defaults require asking for access to your computer and devices and are set at a safe level.  Remember to read popup windows and ask us if you have any questions.
If you want to further understand privacy settings, or content settings, see Google's help for Chrome.
Not sure why your Internet privacy is important?  Get perspectives from experts!
Additional Thoughts for Those with Google Accounts
Even if all of your Chrome settings are set for extreme privacy, Google (and providers of other free accounts) may still be tracking you.  Your browser settings do not also change what Google tracks while you are logged in (and sometimes when you aren't).  The easiest way to get a handle on your Google security and privacy is by starting with the Google Privacy Checkup tool.  It's not a bad idea to also run the Google Security Checkup.  If you want to dig in further, go to https://myaccount.google.com and take a look at all the available settings.  Remember that no matter how good something sounds, if it "remembers," "shares," or "uses" your information, it is storing it somewhere beyond your reach and you need to think carefully about the value of that feature.
Other accounts and Android phones
Android phones are founts of data to Google.  Be cautious, and learn about your settings options.
Google is not alone in the world of tracking moguls.  Facebook is notable in its work in this area, with a reputation for selling and sharing its customers' data, sometimes even that which they believe is private.  Other companies, both within and outside the US are also working to exploit the wealth of consumer and private data in your browsing. Limit your accounts to minimize tracking and information sharing.
Do not assume you need to be logged in to be identified.  If you have previously used an account on a machine or your browsing history was moved or synced to a new machine, you've given it your fingerprint and your data can be aggregated together with your tracked data while logged in. Consider using ad and/or tracking blockers (be aware that these may inhibit some legitimate functions of websites, and may disadvantage smaller sites which survive on ads), a terms of service checker, and a non-tracking search engine.
Chrome Incognito Mode
Most browsers have a "private" browsing mode, like Chrome's Incognito windows.  This is designed both to keep your computer clean of traces from your browsing, and if necessary to give you a "safe mode" — a way to access a page free of extensions and caching issues.  Using private browsing affects what is stored on your local computer.  It does not affect what is transmitted to or stored on remote servers which you may access via Web sites.  It is not safe to use private browsing in place of other security.
Learn more at https://support.google.com/chrome/answer/95464.
Think before saying OK
Your browser has warnings and security to protect you.  Sites may ask for control of your camera, microphone, and other parts of your computer.  You may also be asked to download harmful attachments.  Read all warnings carefully and proceed with caution or you may place yourself and your data (and identity) at risk.
If you have any question at all, you should not proceed, or should contact the Help Desk (x7440, help@brynmawr.edu) for further assistance.
Additional Reading
Comments Off

on Spotlight: Privacy with Chrome