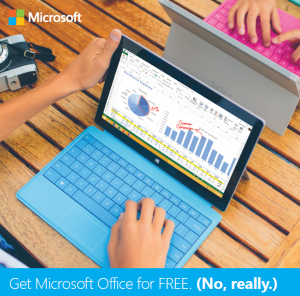 Highlighting Top Resources for Students
Get Microsoft Office for FREE by logging in at webmail.brynmawr.edu. Click Office 365 in the top left corner and click to install Office 2016 on more than five devices!
Need to learn a new tech skill? Check out Lynda.com! See the LITS Blog for more info.
Did you know we have how-to guides? Learn library basics with our interactive tutorials, and check Tech Docs for help with printing, basic troubleshooting, and more.
Working with our Summer Interns
So many talented students joined our team this summer, from student employees in the libraries and at the Help Desk, to Digital Scholarship Summer Fellows, Digital Curriculum Interns, Augmented Reality/Virtual Reality Interns, and Friends of the Library Interns. Look for their work in upcoming exhibitions in Canaday, the Digital Competencies Initiative, and more!
Launching the Digital Competencies Initiative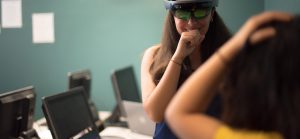 Interested in learning digital skills and critical perspectives on technology? Check out Bryn Mawr's new website for the Digital Competencies Initiative. Take a quiz to find your digital competencies personally, browse student-curated resources, and learn more about how you can get involved.
Shining a Spotlight on Security
The LITS Spotlight Series has returned, and will continue throughout the fall with advice for staying safe online. We have tips for Spotting Scammy Web Addresses and info on privacy settings in Google Chrome. Stay tuned for managing passwords, data security and more.
Our Safe Browsing Initiative offers extra scam and phishing protection for your email and web browser, including scanning attachments for malicious code and blocking harmful sites.
The College's Information Security Education Program is in full swing – do your part and complete the program now! Look in Moodle for the InfoSec Ed course and watch for a new-and-improved version in October!

Making New Apps Available in Office 365

You may have noticed a few new apps in Office 365. We're excited to provide access to this continuously improving suite! Follow the Office blog for up-to-the-minute information from Microsoft.
Upgrading Moodle
We've upgraded Moodle from version 2.6 to 3.2. For help and to learn more about what's new in Moodle take a look at our quick video overviews, come by our office hours, or make an appointment with a member of the ETS team.
Upgrading and Expanding the Network
We've been busy behind-the-scenes, too. Over the summer we upgraded the network infrastructure in Guild, Canaday, Radnor, the Campus Center, and Merion. New network access points in Dalton offer faster and better coverage.
Piloting Wireless Printing
This fall we're piloting a few methods of mobile printing in our library labs.  It's a new service we're trying – help us test it out!
Opening a New Group Study Space in Collier
As a part of the Park renovation, a second group study space and seating area is now open in Collier. Stop by and take a look!
Hosting Exciting Workshops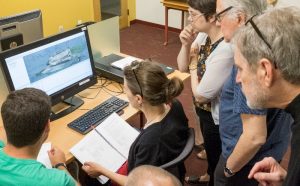 JupyterDayPhilly took place May 19 at Bryn Mawr College. Attendees explored the advantages and challenges of making the Notebooks, and the digital competencies they encourage, useful in a wide range of fields.
On June 6 – 9, Cultural Heritage Imaging (CHI) visited the College and trained recent alumnae, students, faculty, and staff in Photogrammetry for Scientific Documentation of Cultural Heritage.
Building a new LITS Website
We've been busy building a new LITS website that provides access to library and information technology services, resources, projects and partnerships through a single, unified web presence. Stay tuned for the launch of a new-and-improved brynmawr.edu/lits in January 2018!
Important changes and reminders to note:
We're here to help – don't hesitate to contact us at help@brynmawr.edu or 610-526-7440. Visit us on the first floor of Canaday or online at lits.brynmawr.edu.
Comments Off

on How We Spent Our Summer Vacation 2017