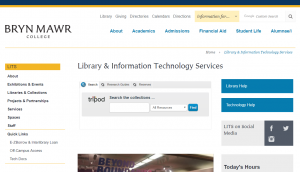 We're pleased to announce that on January 18th LITS will launch a new website at brynmawr.edu/lits.
Search or browse our integrated library and information technology services site for technology help and to discover our collections.
Learn about the library, find out information about tech-enhanced and study spaces across campus, and see how LITS supports teaching, learning, and administration at Bryn Mawr. Get to know our staff, our programs, and our projects — and get inspired to partner with LITS!
Contact the Help Desk with questions: help@brynmawr.edu or 610-526-7440.
Comments Off

on LITS Launches New, Integrated Library & Information Technology Services Website