Navigate to https://moodle.brynmawr.edu/login/index.php
Enter your BMC username (without the "@brynmawr.edu) and password — click Log in
All of the courses you have access to are listed on the left side of the screen under "My courses." Locate and click on the course titled "InfoSecEdProgramFYS2018" to enter the course.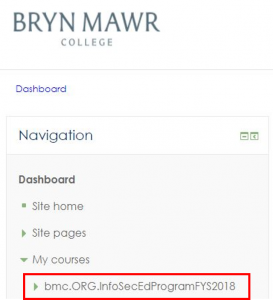 If you experience any trouble accessing or navigating the Infosec Education Program, contact the Help Desk at help@brynmawr.edu or x7440.
Further Information
What does participation entail?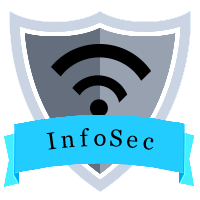 The InfoSec Education Program consists of two components: viewing a series of short videos (created by SANS: Securing the Human) that focus on core information security topics and completing the Information Security Mastery Assessment. The assessment, which consists of multiple choice questions and interactive scenarios, is designed to allow you to self-evaluate your mastery of the Information Security Competencies. All materials are delivered via Moodle (the College's learning management system) within the Information Security Education Program course (see instructions below for accessing the course). Completing the full program will take about 40-50 minutes to complete. Once you've completed the program, you'll be awarded the InfoSec Competencies Mastery Digital Badge; please allow up to 48 hours to receive the badge via Moodle.
How do I complete the program?
Instructions for navigating and completing the materials are posted within the Information Security Education Program Moodle course.
Be an InfoSec Master!
Comments Off

on First Year Students: Complete the College's Information Security Education Program!