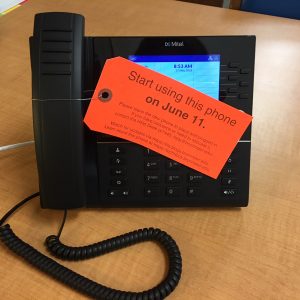 The College's new phone system will launch on Monday, June 11. 
Your New Phone
Beginning the week of May 21, and through our June 11 launch date, LITS and our wiring contractor PABEC will be installing new telephones on faculty and staff desks. The phones will be in a "test state" and not usable.
On June 11 you may activate your phone and begin using it.
Please leave the new phone in place and plugged in. We understand desk real estate is valuable! If you have concerns or need to relocate it, contact the Help Desk (610-526-7440, help@brynmawr.edu).
Between Now and Launch
We will have two short phone outages next week as we finish configuring and testing the new system:

Tuesday, May 22 from 7:00 a.m. – 8:00 a.m.
Friday, May 25 from 7:00 a.m. – 8:00 a.m.

Phone service will be unavailable from Friday, June 8th at 5:30 p.m. until the morning of Monday, June 11.
Watch the LITS Blog and your email for weekly #spotlightseries messages containing important information about actions required, learning opportunities, and online documentation.
What to Expect June 11
You will need to log into your desk phone once to activate it.
You will need to dial "8" instead of "9" to reach an off-campus number!
LITS staff will be visiting offices throughout the day to answer questions and help you get started!
Optional desktop and mobile apps will be available; watch for emails with more information.
Thank you for your patience as we deploy hundreds of new phones across campus. We will continue to minimize disruption as much as possible. Contact the Help Desk with any questions or concerns: 610-526-7440 or help@brynmawr.edu.
Comments Off

on Phone Installations Begin 5/21; Phone Activation 6/11