Highlighting Top Resources for Students
Get Microsoft Office for FREE by logging in at webmail.brynmawr.edu. Click Office 365 in the top left corner and click to install Office 2016 on more than five devices!
Need to learn a new tech skill? Check out Lynda.com! See the LITS Blog for more info. Check Tech Docs for help with printing, basic troubleshooting, and more.
Coming soon: self-guided library tours using augmented reality! Students use an iOS device (we can lend you one) to complete a game-based, self-guided introduction to the library's services. We can also offer a scheduled group activity during class time: interested faculty can contact library@brynmawr.edu to schedule.
Launching Multi-Factor Authentication
Beginning Monday, September 17 all faculty, many staff, and some student employees will begin using multi-factor authentication (MFA) when logging in to many of the College's online services. A big Thank You to approximately 200 early adopters who began using Duo in August! See the LITS Blog for details.
Opening ear-whispered: works by Tania El Khoury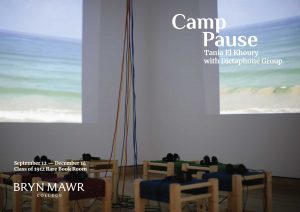 The College is hosting a major survey of artworks that engage the ongoing refugee crisis in the Middle East. Experience Camp Pause, a 4-channel video installation made by El Khoury as part of the Beirut-based artists' collective Dictaphone Group, from September 12 – December 14 in the Canaday Rare Book Room. Join us for a wide variety of related events exploring themes of migration, story-telling, and social justice in the Middle East. From Sept 6-23, additional artworks and programs are taking place around campus and in Philadelphia as part of FringeArts.
Working with our Summer Interns
Educational Technology Services (ETS) hosted six summer interns, who completed a range of creative digital curriculum, information security education, and audiovisual projects. Learn more this afternoon at our first Tech Talk of the year.
Friends of the Library-sponsored interns contributed to two digital resources projects, College Women and In Her Own Right, prepared materials for the History of Art 374/674 course Early/Modern Temperaments, and processed art and personal papers donated by activist alumna Judith Masur (1968). There is a small exhibition celebrating the Masur gift on the second floor of Canaday.
The Pennsylvania Consortium for the Liberal Arts sponsored a Digital Scholarship Summer Symposium, hosted at Bryn Mawr College, which brought together 44 students from eight schools across Pennsylvania to share their completed and in-progress digital scholarship research projects.
A team of LITS staff and students were accepted to ILiADS (Institute for Liberal Arts Digital Scholarship), a kind of project incubator for Digital Scholarship hosted at Occidental College this year. During the one-week institute, the group further developed a prototype for Bryn Mawr's History of Women in Science project, which will go live this fall.
Installing our New Phone System
The College's new phone system went live in June, and we've been tweaking programming to streamline office operations. Just returned to campus, curious about new features, or need a refresher? Tech Docs can get you started. We'll be hosting a few Q&A sessions the week of September 24 – watch the Daily Digest for details.
Shining a Spotlight on Security
Preparing to launch a new library catalog and discovery layer
A new interface for Tripod, the library catalog, is coming December 20. The new system will offer improved user experience and allow the libraries to more efficiently manage the various print and electronic materials that we acquire and to which we subscribe. Find more information in the Project Overview.
Important changes and reminders to note:
Use the Outlook App, available from your device's app store, to access Bryn Mawr email on your mobile
Our Tuesday Tech Talk series begins September 11, 4:00 – 5:00 p.m. in Old Library 224. Join us and see how your faculty, student, and staff colleagues are experimenting with digital technology in teaching, learning and research.
We're here to help – don't hesitate to contact us at help@brynmawr.edu or 610-526-7440. Visit us in the library or online at lits.brynmawr.edu.
Comments Off

on How We Spent Our Summer Vacation 2018